STOP SNORING
AND GET RESTFUL SLEEP
Stop unhealthy snoring and wake up feeling well-rested.

End snoring's harmful impact on your health and relationships.

Stop snoring's harmful impact on your health and get restful sleep with the personalized anti-snoring mouthpiece.

Improve your breathing and get quiet, snore-free sleep.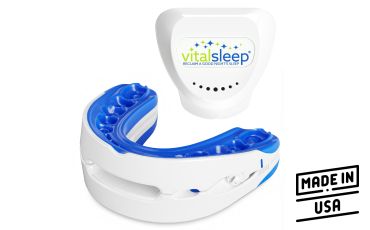 "My snoring is effectively gone. It's quite miraculous."
- Andy Bass, NY
An open-air way prevents snoring
Vitalsleep is designed to be effective from the very first night of use. It moves the lower jaw forward, opening up the airway and preventing the collapse of soft tissues that cause snoring.
Its patented Accu-Adjust System allows for customized and effective jaw positioning during sleep. It effectively addresses the root cause of snoring, providing users with a better quality of sleep in almost any sleeping position.
Breathe Easy, Sleep Better: The VitalSleep Difference
VitalSleep treats the severity of your unhealthy snoring by opening the airway with its patented adjustment mechanism.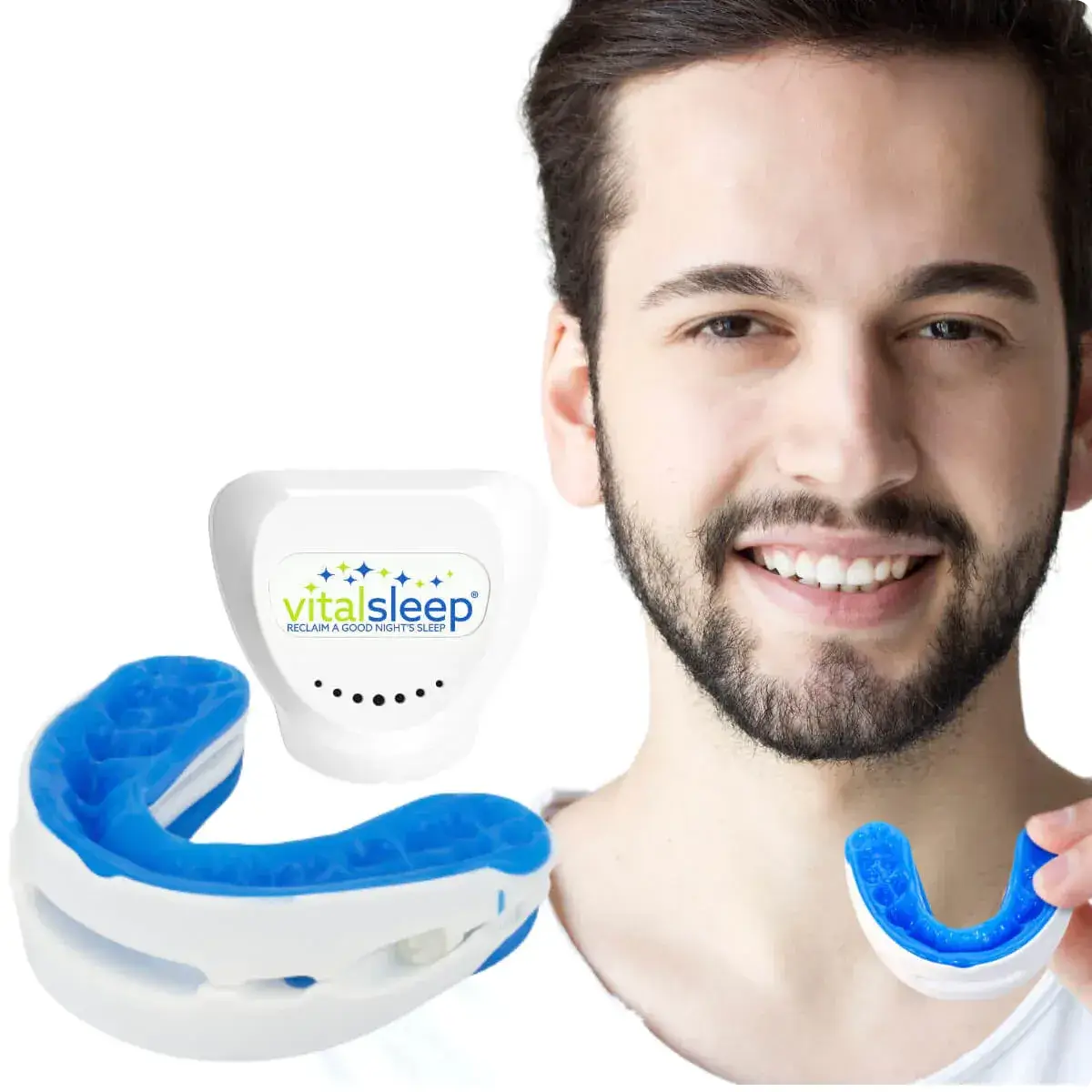 Satisfaction Guaranteed
We guarantee that you'll sleep quietly with VitalSleep. If for any reason, you're not fully satisfied, let us know and we'll refund 100% of your money.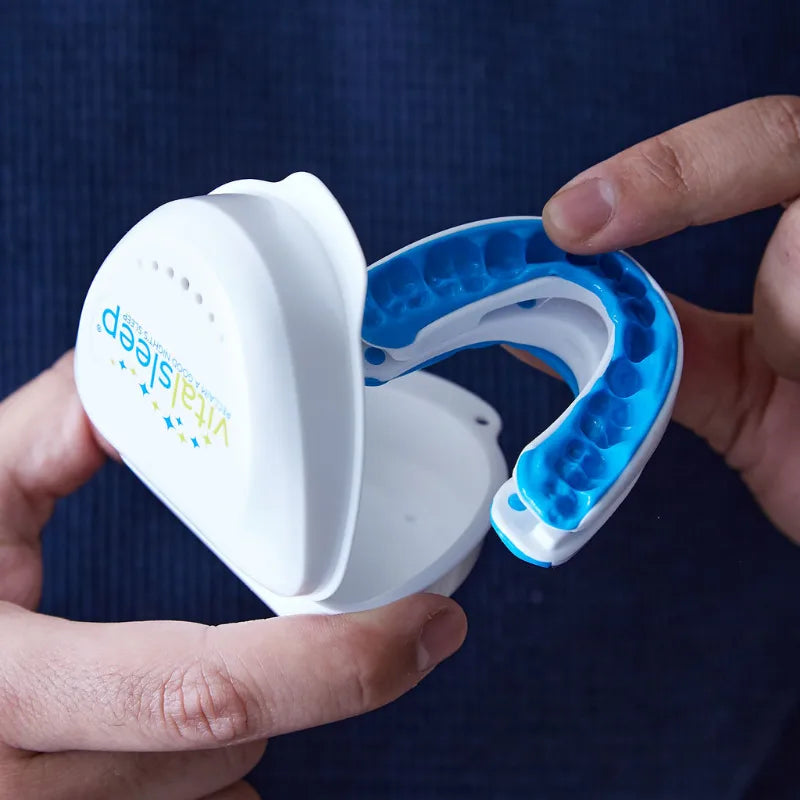 Adjustable Jaw Positioning
VitalSleep's patented Accu-Adjust System enables you to adjust the mouthpiece's lower tray to open the airway for maximum effectiveness based on your snoring intensity.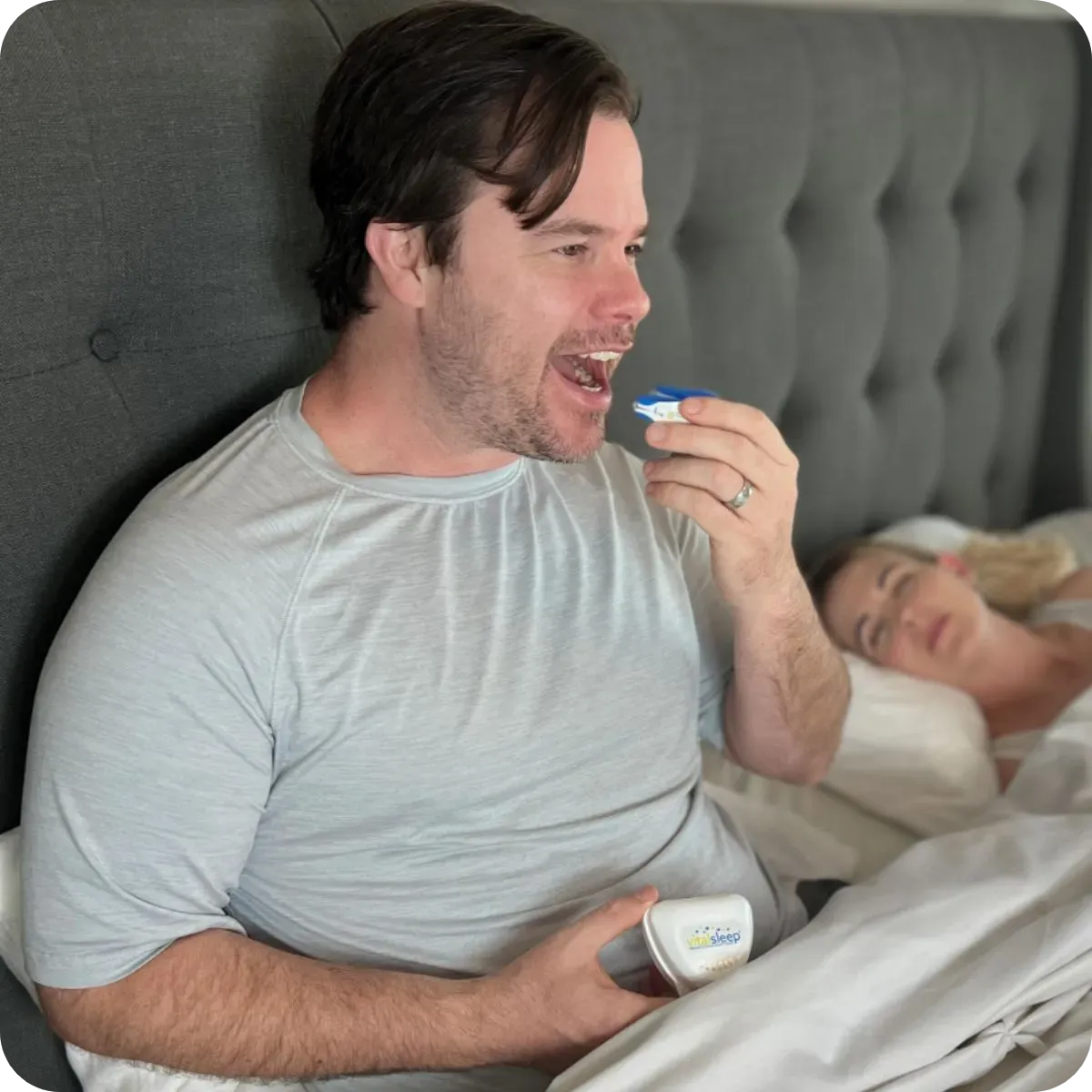 Sizes For Men and Women
Not all mouth sizes are the same. Choose from our standard size recommended for men and our new women's size which is 10% smaller.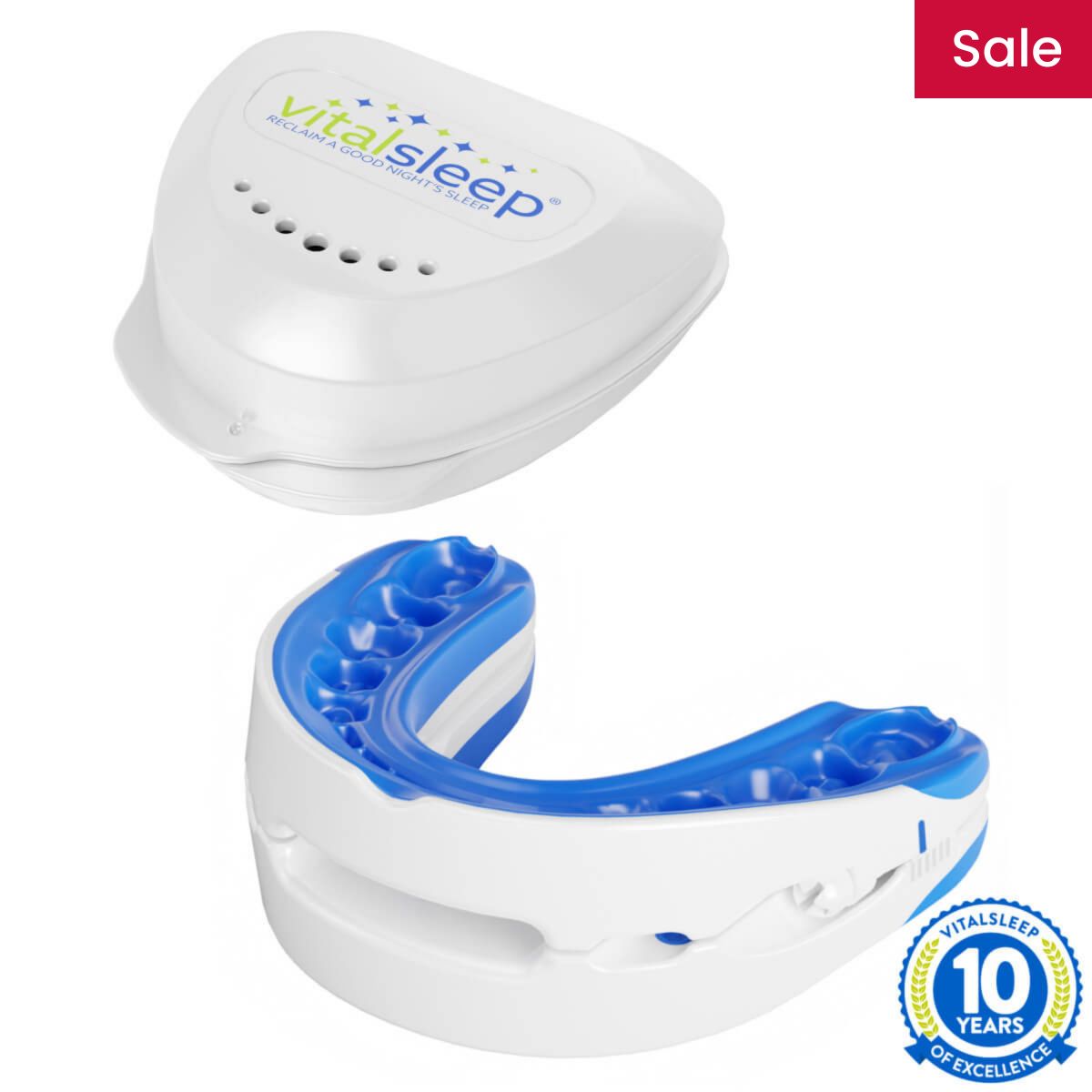 Get Fast Relief From Snoring
Try it for 60 Days
1-Year Warranty
Free 2-Way Wordwide Shipping
100% Money-Back Guarantee
Proudly Made In The USA
VitalSleep is
FDA-cleared
and manufactured under strict production guidelines. Its materials are FDA-approved for use in oral appliances. Help strengthen the US economy by supporting American jobs and companies. Avoid cheaper made-in-China products that may be toxic and have no quality control systems in place.




How The VitalSleep Snoring Mouth Guard Works
1. Order Your Size

Choose from a men's or a women's size. You'll get free same-day shipping for fast delivery.

2. Mold It To Your Teeth

Heat it for 45 seconds in hot water to create your own teeth impressions, like a dentist fitted oral appliance, without the expensive cost.

3. Advance Your Lower Jaw and Tongue

Personalized adjustments based on your snoring intensity open the airway for improved breathing and quiet sleep.

4. Wear VitalSleep To Bed

Breathe better and get restful sleep. Start waking up without the tired, groggy feeling that many snorers suffer from.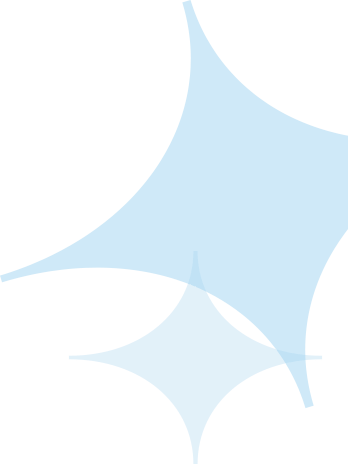 The Life-Changing Impact of VitalSleep
Excellent
Rate 4.7/5 Based on 821 Reviews
"I have used other manufactured mouth guards and have found them uncomfortable with not enough airflow. VitalSeep mouth guard is a great product."
John R.
"This is the most amazing little wonder! It has allowed my girlfriend and I to share the same bed again after almost three years sleeping apart. They will immediately replace any damaged mouthpiece and the customer service is absolutely incredible."
Andrew Arch
"I have tried other snoring devices but destroyed them due to my teeth grinding. VitalSleep is more durable than others I have tried."
Gilbert M.
"Customer service is amazing. They were prompt. My mouthpiece is good quality and it helps me breathe so much better at night. I wake up less tired, overall I would highly recommend this company."
Jennifer Hopkins
"The VitalSleep mouthpiece is great. It's very easy to mold to the shape of your mouth. I've been using it for over 3 months so far and my wife hasn't complained once about my snoring like she used to. It's great to finally get a good night's sleep again!"
Mike R.
VitalSleep Targets The Cause Of Snoring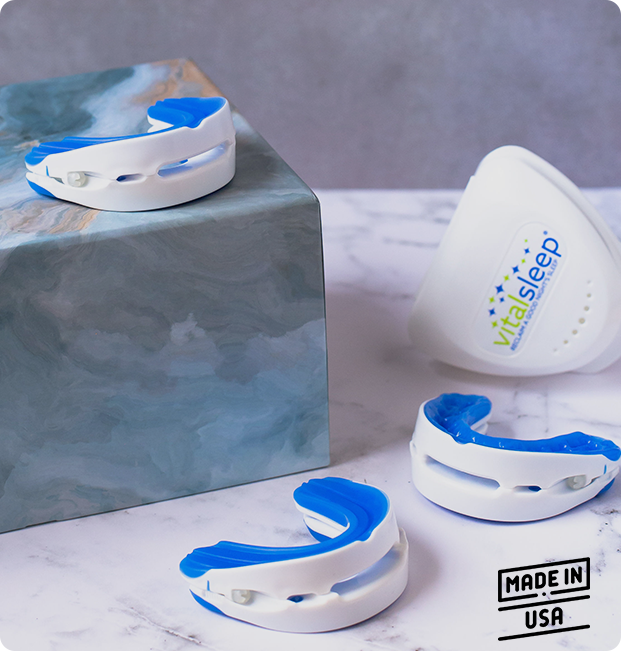 Comfortable And Effective
Deep, restorative sleep is essential to your health and well-being. Lack of sleep causes chronic fatigue, health issues, and relationship problems.
Our patented and innovative design is adjustable to allow you to advance the jaw to open the airway. It uses the same mechanism that doctors and dentists use to treat snoring. VitalSleep has helped hundreds of thousands of snorers for over a decade.
With the best in-industry warranty, you'll receive complimentary replacements for any reason for 1 year
Customized Teeth Impressions
Snoring impacts the quality of sleep. A superior fit is achieved with its adjustable jaw positioning and personalized teeth impressions for greater comfort.
VitalSleep is similar to a dentist-made oral appliance without the costly doctor or lab fees.
The easy at-home 'boil and bite' fitting process means you'll have a customized fit that is comfortable and effective in preventing snoring.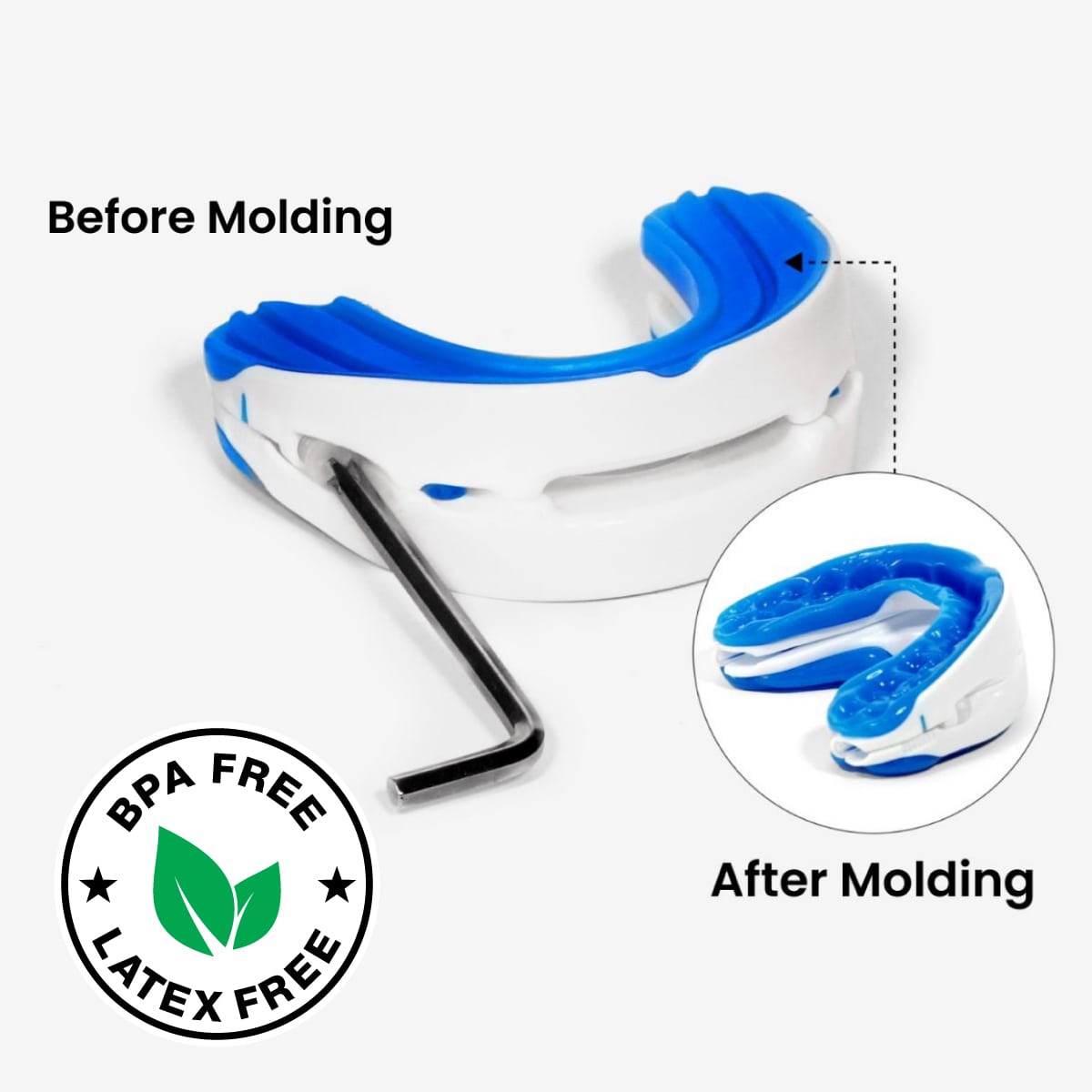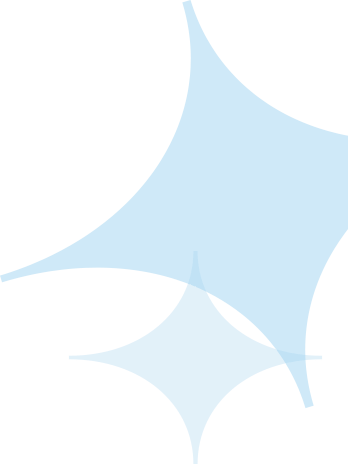 As Featured In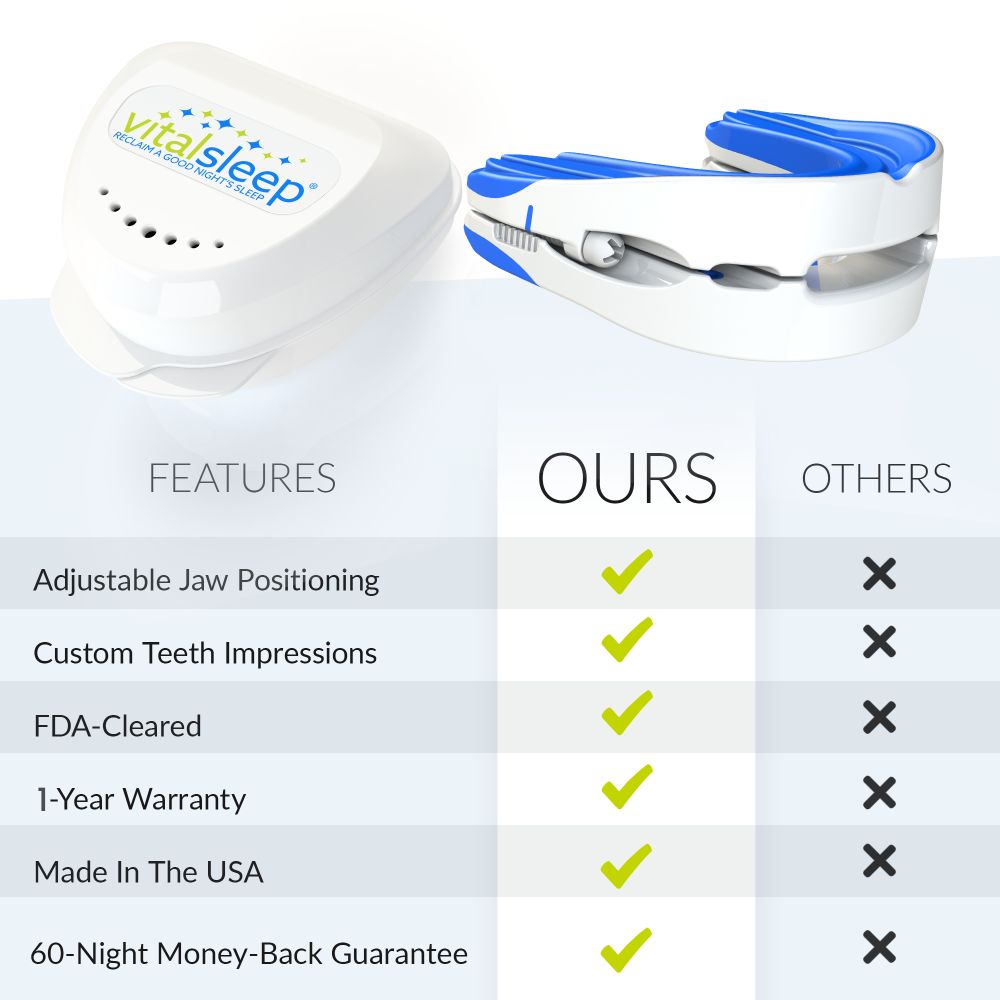 VitalSleep reduces or eliminates snoring for over 90% of users
At VitalSleep, we understand the skepticism around anti-snoring solutions. It isn't just another anti-snoring device. It's a result of innovative design and a deep understanding of sleep science.
That's why we're proud to share that an impressive 90% of our customers experience a significant reduction in snoring from the very first night of use.
Stop unhealthy and embarrassing snoring the first night and wake up with more energy with the personalized, anti-snoring device that is guaranteed to last a minimum of 1 year, giving you many nights of snore-free sleep.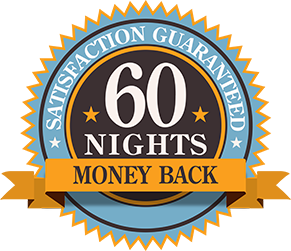 Satisfaction Guaranteed
We guarantee that you'll sleep quietly with VitalSleep. If for any reason you're not fully satisfied, let us know and we'll refund 100% of your money. Every order also includes free replacements for 1 year!